Who is Andonasty?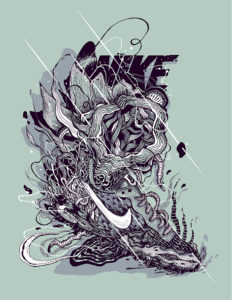 Andonasty is a Berlin-affected contemporary art creator, graphic designer and Illustrator based in Plovdiv, Bulgaria. Before he moved to Berlin, Germany he met many different and interesting artists, which showed him the fascination of contemporary arts and design. There he completed his education by studying the "History of Arts" in Freie Universitaet. Focusing and experimenting in the new expressions of art brought him to use neon acrylic paints on canvas and wood as well as installations at modern locations such as Tribal Tools music shop in Berlin. Currently he  spends his time by working as illustrator and graphic designer.
About Andonasty's Work
Andonasty uses mixed media from watercolor and acrylic paints to wood, glass and ceramic materials. His works can be found in private collections in Berlin, Stockholm, and in many other countries around the world.
Recently Created with Andonasty at The Urban Art Shop