New Gallery Workspace at UAS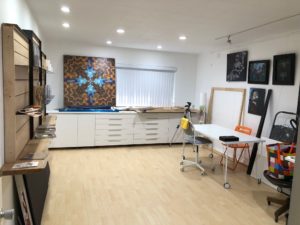 One of the main things we all agreed that we wanted was a space that we could work and play, as well as show off the work of our artists (plus our own creations). Grabbing a 13 foot by 20 foot space right upstairs in our building, we worked quickly to create the space of our dreams. We teamed up with local contractors and suppliers to achieve the perfect space beyond just a white box: along with new flooring and lighting, we had installed a magnetic wall, a Meural display, and a hidden flat file storage system.
Not stopping there, we worked with local craftsman, Austin McAddams, to create a beautiful, wall-length shelving system to display all we can do. Austin worked with us on the design, and we traveled with him to Urban Timber, San Diego to hand select the 10 foot piece of Sugar Gum Eucalyptus lumber that he would cut and polish into a breathtaking shelf. Above that, he designed and installed a shelving unit with glass shelves to allow the art to float on it's own.
Stay tuned as we put the finishing touches on this new space in Bankers Hill as we look forward to having small art openings, latest showings, and other gatherings.